2020 MILAN ATHLETIC HALL OF FAME INDUCTION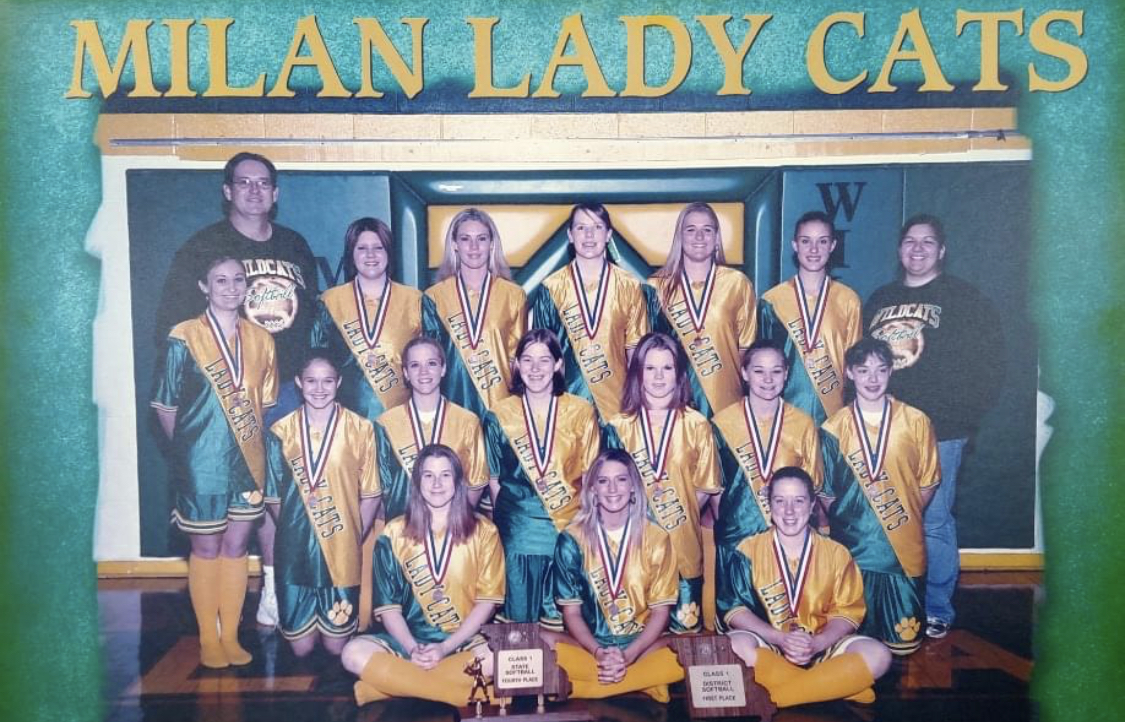 The 3rd Inductees of the Milan C-2 Athletic Hall of Fame is the 2004 Milan High School Softball team. This team placed 4th in the Missouri State High School Activities Association (MSHSAA) playoffs.
The team consisted of the following: EMILY CULLUM, JESSICA TAYLOR/VIERHOUT, KELLIE HEALY, SHEENA MCCABE/SMITH, JESSICA HUFFMAN/PARSONS, SAMANTHA SHAW/MCCABE, ERIN MORGAN/LOCKHART, TRISHA MCCABE/GILE, ERIN FURNISH, WHITLEY SCHNELLE, ANGELA FOSTER, DANIELLE TAYLOR/LUTZ, CATLIN ESSMYER/EWART, BROOKE BANKUS/DODSON, and MARY VAN INGEN/LENTZ. Mr. STEVE WELLS was the Head Coach and Ms. BRANDY ATHA was the Assistant Coach.
Receiving individual honors – BROOKE BANKUS/DODSON (ALL REGION, ALL-DISTRICT AND HON. MENTION ALL-CONFERENCE), DANIELLE TAYLOR/LUTZ (2ND TEAM ALL-STATE, ALL-REGION, ALL-DISTRICT, AND 1ST TEAM ALL-CONFERENCE), JESSICA TAYLOR/VIERHOUT (1ST TEAM ALL-STATE, ALL-REGION, ALL-DISTRICT, AND FIRST TEAM ALL-CONFERENCE) AND WHITLEY SCHNELLE (2ND TEAM ALL-STATE, ALL-REGION, ALL-DISTRICT, AND 2ND TEAM ALL-CONFERENCE).
The Lady Cats began the year with high expectations, after being able to compete in Class 1A. the team started the year with a mediocre opening, but quickly turned around and established a season that would be phenomenal!
Under most circumstances, teams would be satisfied with winning a district championship. This team, however, was determined to make a strong run to the playoffs. The ever-tough Tri-Rivers conference provided a solid experience for the team, as they battled teams and programs with outstanding traditions – Putnam County, Schuyler County, Clark County, Brookfield, Scotland County and North Shelby (eventual Class 1A state champion in 2004) made up the 2004 Tri-Rivers Softball conference and while the Lady Cats finished in the middle of the conference, they were able to come through battle-tested!
Throughout the district tournament, the Lady Cats opened with a win against rival Princeton, another win against Cainsville, and a strong district championship win against Newtown-Harris. In the sectional game, the Lady Cats didn't let up and shut out Tri-County; then set up a tough Quarterfinal game against Worth County. The battle-tested Lady Cats beat Worth County to obtain the first-ever trip to the MSHSAA playoffs! The team was bested in the semifinal by Silex – 4 to 5 and then by Miller with a score of 3 to 5 to finish 4th in the state of Missouri! Silex then was defeated by North Shelby in the State Championship game with a score of 2-1.
The Lady Cats were a testament to dedication, perseverance, and grit. They showed a strong amount of resiliency and competed in a season that has proven historic. The Milan C-2 Athletic Hall of Fame committee is proud to induct this team as the 3rd Induction to the MC2 Athletic Hall of Fame. Please join all of us in congratulating these individuals!
The Milan Athletic Booster Club is providing each team member with a commemorative T-shirt – honoring their achievements!
The team will be commemorated with a plaque and permanent placement in the Milan C-2 Athletic Hall of Fame display – will be on the west wall in the new cafeteria/commons area!
The purpose of the MILAN C-2 Athletic Hall of Fame is to recognize and honor those MILAN C-2 School District athletes, coaches, administrators, and supporters who excelled in their respective sports or coaching/support roles and who helped to bring honor, recognition, distinction, and excellence to MILAN C-2 School District by their conduct both on and off the field, or court, of competition. This recognition will help maintain the spirit, pride, and sense of community as well as serving as a historical account of the great athletic traditions of the MILAN C-2 School District.
Additional information regarding nominations can be found on the Milan C-2 District website – under the Athletic hall of fame tab.
The committee is made up of – Mrs. Patti Pipes, Mr. Mark Forrester, Mr. Chris May, Mrs. Ali McCully, Mr. Tyler Clark, and Dr. Ben Yocom.