EDIT MAIN
Red Ribbon Week is October 26-30
All grades PK-6 are invited to dress up to help your class earn prizes! Individual prizes will also be given out!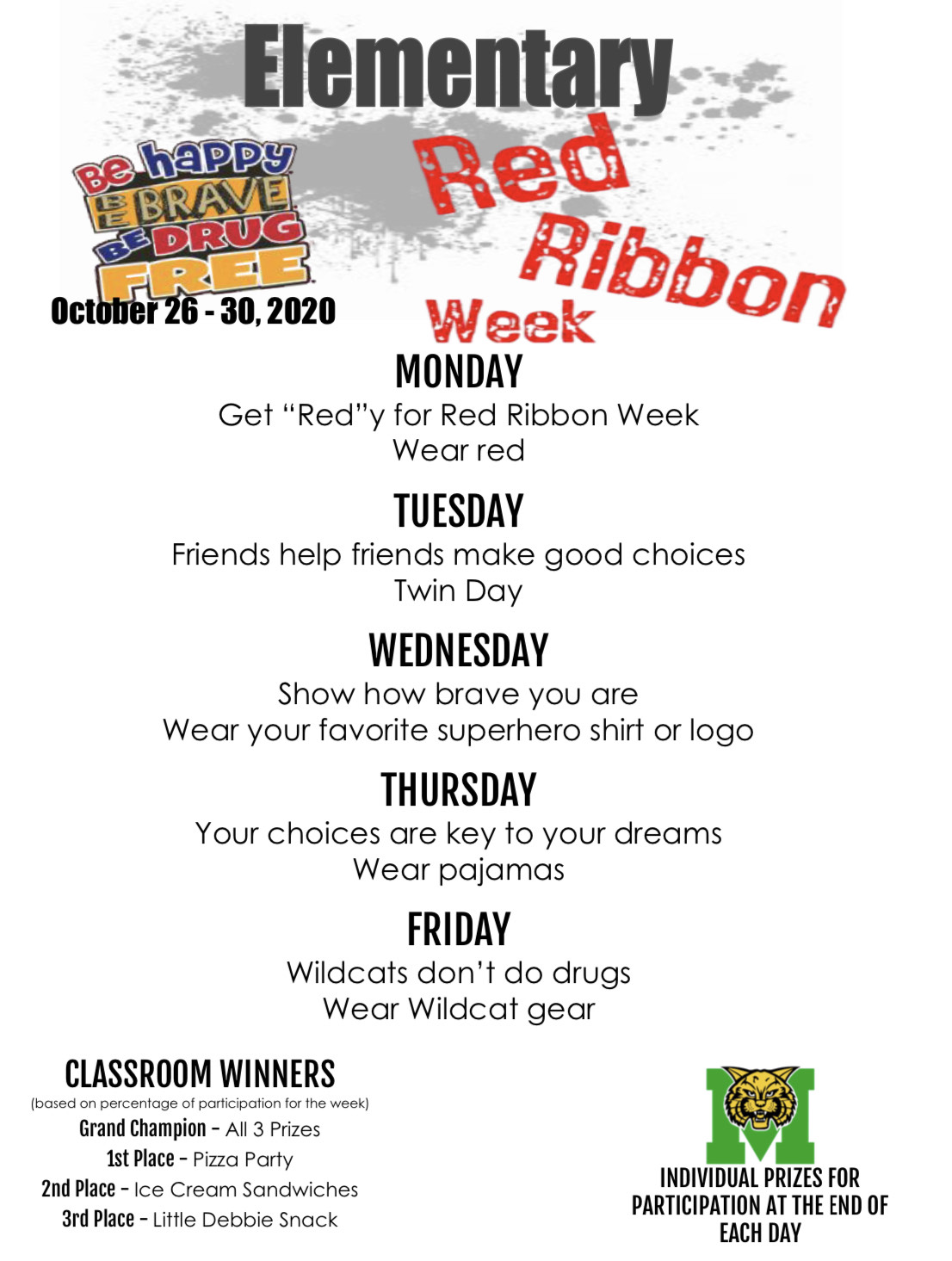 Milan Elementary Newsletter
Volume 1, Issue 2 October 2020
Dear Milan Elementary Families,
It is a great feeling to be settled into a routine and fully engaged in working and learning. Expectations with academics and behavior have been established as we are moving into the second month of school. As a school community, we have set our goals in Reading, Math, Science, and Social Studies and therefore it is so important that your student is here as much as possible.
We will strive to reach those academic achievements by strengthening a variety of techniques and programs within our school. We are focused on improving our curriculum in all subject areas by utilizing common assessments and frequent collaboration with our teachers and staff. We have started taking devices home some this year in all grade levels to practice our online learning tools and work in the google classroom.
We will continue to teach The 7 Habits of Highly Effective People. We started the year with a boot camp to touch on all 7 habits and we are going to continue to focus on 1 habit per month. We just finished habit 1 "be proactive" and will begin habit 2 "begin with the end in mind" this month.
Parents and family members can help with our efforts here by encouraging these goals at home and reinforcing them with your students. By strengthening the bond between students, staff, and families we can make amazing gains. We are going to make a great school year even greater!! Please remember to read with your student as often as possible and review math facts frequently.
Ashley Pauley
Reminders
Students receiving a Major referral or more than one minor referral will not be allowed to attend the PBS celebration.
Please encourage your student to complete any homework or unfinished classroom work at home each night. This will help them to be prepared and on task to start each day.
First and Second Quarter Events:
Oct. 14 PTC+
Oct. 14 No School (Remote Day)
Oct. 15 Muffins with Mom
Oct. 15 Kindergarten to Firehouse
Oct. 16 Trash bag Fundraiser end
Oct. 22 Title Parent Meeting
Oct. 22 3rd grade to Capital
Oct. 26 Red Ribbon Week
Oct. 29 Trunk or Treat from 5-6
Oct. 30 Halloween Parties at 2:00
Oct. 30 Quarter Ends
Nov. 5 Donuts with Dad
Student Information
Please call or send a note telling why your student was absent. If a doctor visit was made please send with your student the next day or have them fax it to (660.445.2102).
Wellness checks are encouraged daily.
Quarter Assemblies
Will be a video we create and send home via the website and school app. Please watch for this in the near future.
Halloween Parties
PARTIES Will be in classrooms and private. We will party with our homeroom class only. Please remember the dress code wherein no weapons, fake or real may be brought to school as part of a costume. No visible blood on the body or costume. No full facial masks. More information will follow at a later date.
Milan Elementary Recognized as Exemplary PLC
February 02, 2017
MILAN ELEMENTARY RECOGNIZED AS AN EXEMPLARY PLC
Sixteen schools from across the state of Missouri will be honored during the 2017 Powerful Learning Conference Jan. 30-31 in Osage Beach for their commitment to professional learning.
The schools have been named Professional Learning Communities Exemplary Schools for promoting cultures focused on collaborative learning while effectively using data to increase student achievement.
The 2016-17 award winners are:
Avery Elementary School, Webster Groves School District
Bismarck R-V High School, Bismarck R-V School District
Brown Elementary School, Hazelwood School District
Cameron Intermediate School, Cameron R-I School District
Clippard Elementary School, Cape Girardeau 63 School District
Creekmoor Elementary School, Raymore-Peculiar R-II School District
Forder Elementary School, Mehlville R-IX School District
Hollister Middle School, Hollister R-V School District
Milan Elementary School, Milan C-2 School District
Nashua Elementary School, North Kansas City 74 School District
North County Primary School, North St. Francois County R-I School District
Orchard Drive Elementary School, Jackson R-II School District
Parkview Elementary School, Cameron R-I School District
Shull Elementary School, Raymore-Peculiar R-II School District
Timber Creek Elementary School, Raymore-Peculiar R-II School District
Warrior Ridge Elementary School, Warren County R-III School District
More than 1,700 educators from around the state are expected to attend the conference. Commissioner of Education Margie Vandeven will present school leaders with their awards.
"Congratulations to these teachers and leaders who have accepted the challenge of ensuring high levels of learning for all students," Dr. Vandeven said.
The Missouri Professional Learning Communities Project began during the 2003-04 school year. Supporting, preparing, and developing effective educators is one of the primary goals of Missouri's Top 10 by 20 initiative, which calls for Missouri to rank among the top 10 states for education by 2020.