EDIT MAIN
MO Department of Health and Senior Services
Prevention & Control of Communicable Diseases
CLICK HERE TO VIEW "A GUIDE FOR SCHOOL ADMINISTRATORS, NURSES, TEACHERS, CHILDCARE PROVIDERS, AND PARENTS OR GUARDIANS"

Milan C-2 Health Precautions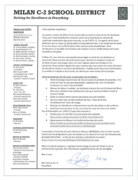 March 12, 2020
Please See the attachment it contains specific information related to the Milan C-2 School District's current status regarding the COVID 19 situation.
The bottom of the letter contains a link from MSHSAA regarding its stance on the upcoming State Championships. As of now, the events are going to proceed as planned.
As a Milan C-2 family we will continue to practice preventative health measures and encourage our students to do so as well.