Elementary Field Day 5/18/22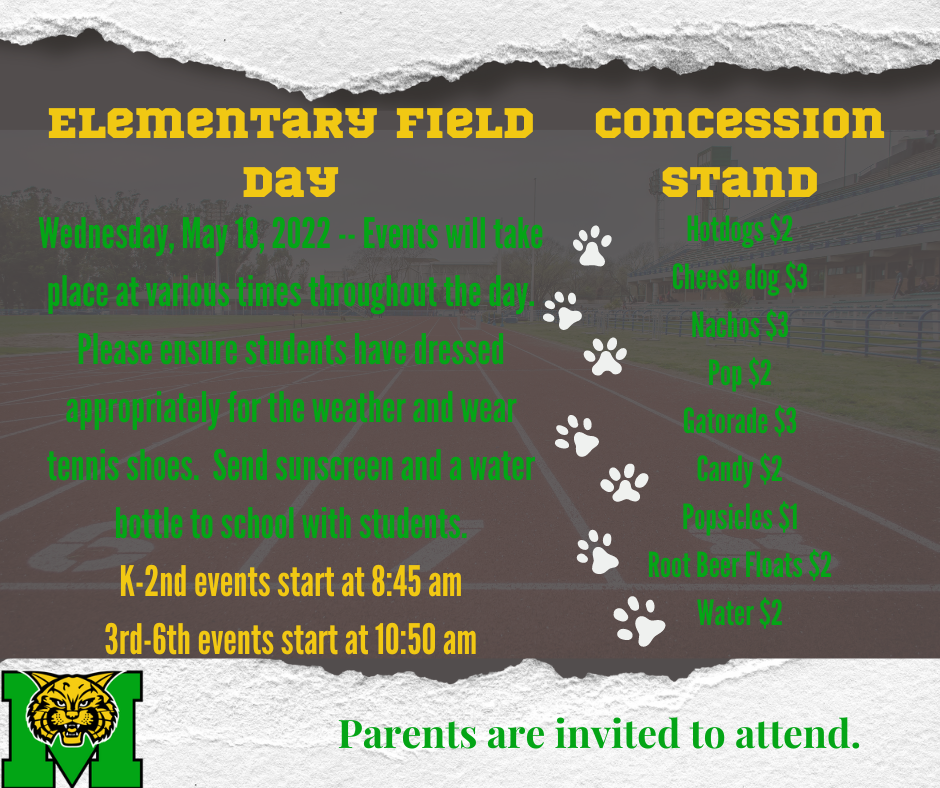 Please ensure students have dressed appropriately for the weather and wear tennis shoes. Send sunscreen and a water bottle to school with students. Concession stand available. Click HERE for more information and the concession stand menu.
Leader in Me Parent Survey
Our school is implementing a whole-school transformational process called The Leader in Me, which teaches 21st-century leadership and life skills to students and creates a culture of student empowerment based on the idea that every child can be a leader. Starting March 10th our school will be conducting surveys to learn more about key areas of strength and areas of needed growth in our school. The data from these surveys will also help us track the impacts of The Leader in Me process and implement key practices more fully. In order for us to have a holistic picture of what is going on in our school we are asking all full-time staff members, parents/guardians, and students in grades 4 and up to participate.
The survey is completely voluntary, but we do hope to get feedback from one member of every household. The survey will close on 5/2/22.
Please click one of the following for the survey:
Kindergarten Round-Up March 7-25, 2022
Monday through Friday
9:00 a.m. – 11:00 a.m.
11:30 a.m. – 2:00 p.m.
The child must be 5 years old BEFORE August 1, 2022.
Please bring a birth certificate, shot records, and proof of residence (piece of mail, bill, receipt, lease agreement) showing you live in the Milan C-2 school district. (NOTE: The child is not required to attend the enrollment process)
Any questions, please call 660-265-1404.
Elementary Tutoring is held on Tuesday and Thursday beginning on Tuesday, September 28th. Please be here promptly at 4:15 to pick up your student.
2021-22 Elementary Handbooks
2021-22 Elementary Activity Fee and Field Trip Permission Slip
2021-22 Elementary School Supply Lists
MILAN ELEMENTARY NEWSLETTER
April and May Elementary Important Dates Flyer
Volume 2, Issue 5 May 2022
Dear Milan Elementary Families,
The end of the school year is vastly approaching and I want to take a moment and thank you for all your help and support this past school year. You as parents play a vital role in your student's academic success and we could not have achieved all that we have without you. You are an integral part of our mission here at Milan Elementary in "Striving for Excellence in Everything".
With the end of MAP testing, it is time to celebrate this last month of school. We have several field trips planned over the next few weeks and will continue to prepare students for the next year.
With the summer months upon us please remember to read over the summer and continue to access IXL. I will be presenting prizes to our students at our "Back to School Night" for those that continue to use IXL over the summer months.
We encourage everyone to attend summer school for an additional month of enrichment and fun. Mrs. Sawyer has planned weekly field trips and I feel this will be a fun positive learning experience for all those that attend.
Have a great and fun summer!! See you in the fall!!
Ashley Pauley
Honor Choir trip May 4th
K trip to City Park is May 5th
5/6 AR Trip to Skyzone May 6th
May 9th BOGO Bookfair Begins
6th-grade Celebration and Dance May 12th @5:30
MAP testing May 2-13th
May 13th 1st grade to City Park
May 13th K to Pershing Park
May 17th 2nd grade to the Zoo.
Field Day May 18th
Star Celebration is May 19th in the a.m.
End of Year Awards Assembly is May 19th @ 1:30
PBS End of Year Field Trip (K-2) May 20th
PBS End of Year Field Trip (3-6) May 23rd
End of Year Talent Show May 24th
Last Day of School May 24th 12:45 dismissal
Students that do not attend a field trip will still need to attend school on the day of the trips.
Please make sure your student has headphones for testing. If your student has a cell phone or a smart watch please keep those at home during testing, we cannot guarantee a secured location for storing them.
Summer school will be May 31sth -June 24th.

Summer school dismissal procedures will be the same as the regular school year but dismissing at 3:00 p.m.

Students attending summer school will receive free breakfast and lunch.
Please remember the Field trip policy is: those students having 5 major referrals or less than 7 major and minor referrals for the year.

End of Year awards assembly is on May 19th at 1:30 p.m. on the Tennis Courts (Weather Permitting)

The Last Day of School is May 24th and dismissal will be at 12:45 we will serve lunch.

I want to encourage students to use IXL over the summer months. I will present prizes to ten students who used IXL the most over the summer at next year's Open House.
Next year will be a four-day school week. No more Early Out Wednesdays.

Next year K-2nd grade will start SBG. Click HERE to view a sample SBG report card.

Next year's elementary Theme is "Welcome to the Jungle". We will be decorating the halls during summer school.
Standards-Based Grading (SBG)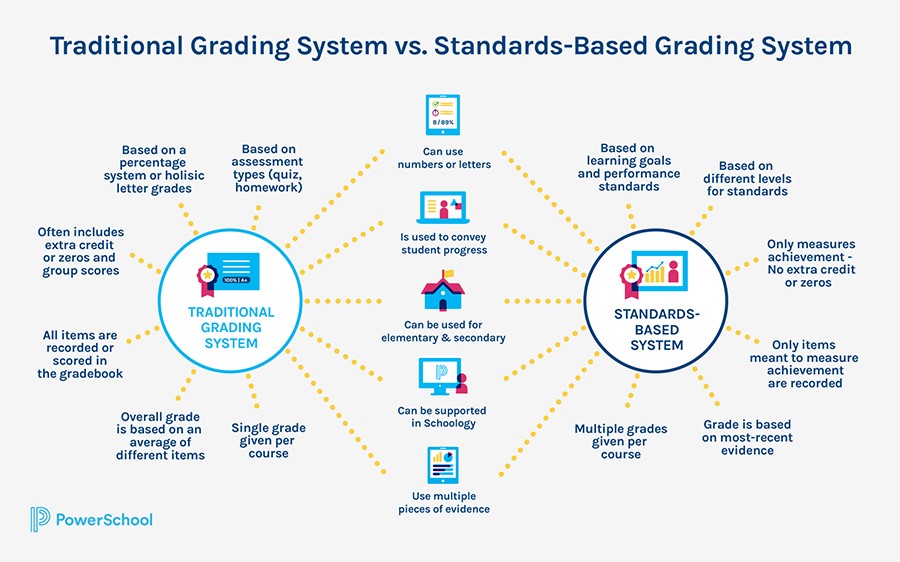 PK-6 Google Meet Schedule for Virtual Days
Listed below is the Google meet schedule for any remote learning day. Please follow the below times
Milan C-2 Elementary
Ranked 3rd in English Language Arts Student Growth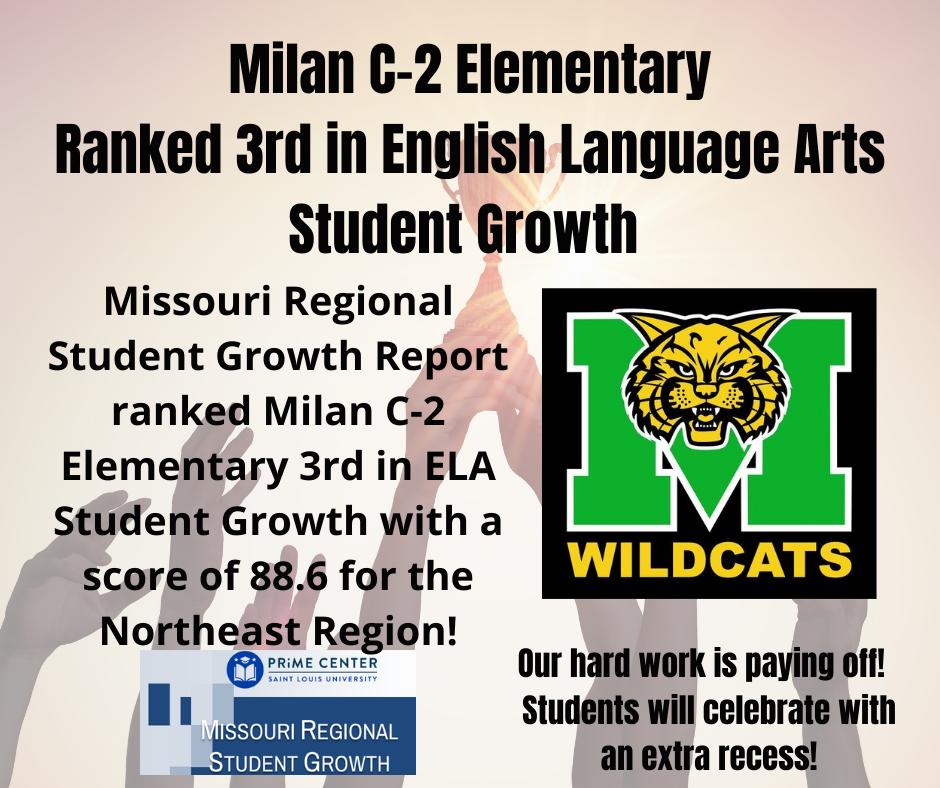 CONGRATULATIONS MILAN ELEMENTARY!!! Milan C-2 Elementary has been recognized for our excellent growth in ELA! We are ranked 3rd in ELA with a Prime Growth Score of 88.6! Keep striving for excellence!
MILAN ELEMENTARY RECOGNIZED AS EXEMPLARY PLC
February 02, 2017
MILAN ELEMENTARY RECOGNIZED AS AN EXEMPLARY PLC
Sixteen schools from across the state of Missouri will be honored during the 2017 Powerful Learning Conference Jan. 30-31 in Osage Beach for their commitment to professional learning.
The schools have been named Professional Learning Communities Exemplary Schools for promoting cultures focused on collaborative learning while effectively using data to increase student achievement.
The 2016-17 award winners are:
Avery Elementary School, Webster Groves School District

Bismarck R-V High School, Bismarck R-V School District

Brown Elementary School, Hazelwood School District

Cameron Intermediate School, Cameron R-I School District

Clippard Elementary School, Cape Girardeau 63 School District

Creekmoor Elementary School, Raymore-Peculiar R-II School District

Forder Elementary School, Mehlville R-IX School District

Hollister Middle School, Hollister R-V School District

Milan Elementary School, Milan C-2 School District

Nashua Elementary School, North Kansas City 74 School District

North County Primary School, North St. Francois County R-I School District

Orchard Drive Elementary School, Jackson R-II School District

Parkview Elementary School, Cameron R-I School District

Shull Elementary School, Raymore-Peculiar R-II School District

Timber Creek Elementary School, Raymore-Peculiar R-II School District

Warrior Ridge Elementary School, Warren County R-III School District
More than 1,700 educators from around the state are expected to attend the conference. Commissioner of Education Margie Vandeven will present school leaders with their awards.
"Congratulations to these teachers and leaders who have accepted the challenge of ensuring high levels of learning for all students," Dr. Vandeven said.
The Missouri Professional Learning Communities Project began during the 2003-04 school year. Supporting, preparing, and developing effective educators is one of the primary goals of Missouri's Top 10 by 20 initiative, which calls for Missouri to rank among the top 10 states for education by 2020.