MAP and EOC Testing Begins April 21, 2022
Greetings Parents,
Just a reminder we will start MAP and EOC testing Thursday, 4-21-22, and continue to test through Wednesday, May 4th.
We will be testing:
7th grade Math and ELA

8th grade Math, ELA, and Science

LA-2

Biology

Algebra 1

Algebra 2

Government
Please try and make sure your students get a good night's sleep and either have breakfast at home or at school.
Thank you!
2021-22 High School Student Handbooks
The Missouri Course Access and Virtual School Program (MOCAP) has developed a catalog of virtual online courses for students. Beginning with the 2019-2020 school year, students will be able to take an entire course from any Internet-connected computer, available 24 hours a day, seven days a week.
Click Below To See What MOCAP Has to Offer at the Following Link:
Wildcat Pride Newsletters
Greetings Wildcat Nation,
We have rolled right into January and the heart of the 62nd annual Milan Invitational Tournament. Both our Boys and Girls Team have done a great job this week.
We are also in the second semester of the 21-22 school year. Grade cards should be sent out by the middle of next week, so be on the lookout for those coming in the mail. Also, any student/students needing to fulfill their attendance obligation can stay most nights (Monday, Tuesday, Thursday, Friday) to do so. We send home letters about attendance every week. It's VERY important that our students be in class to learn as much as possible. Don't forget, you can check in on your student's grades at any time by logging onto your Tyler SIS account. IF you have questions about your account feel free to call the high school office and we can assist you with these.
We are setting the spring state testing dates. It looks like we will be starting this the last 2 weeks of April and the first week of May. We will send home more information about this as we get closer to those days. We will host the ACT Test on February 12th. This is an important assessment for those students looking to attend college. We usually host the ACT at least twice a year here and work to assist our students in taking it to score as high as they can through ACT prep classes before and after school working with different student schedules.
The 2022-2023 master schedule is also being looked at and modified. With the ever-changing needs of our students, we continue to make adjustments to better serve the student body. A need for more CTE (Career and Technical Education) classes is at the forefront right now. Although we have a strong program already in place with Ag. FBLA, and Tech, it's always our goal to adjust to make things better.
We will continue the tutoring program on Tuesday and Thursday directly after school in the next weeks. This is a GREAT opportunity for our students that may need extra help to sit down with a core teacher in a more one-on-one environment to get the intervention they need to be successful.
The Milan StuCo (Student Council) Officers hosted a Winter Semi-Formal Dance last Saturday night, 1-8-22. We had a very good turnout and students have commented about how much they enjoyed it. The StuCo is in the process of planning a student body "Fun Night" that will take place in the gym during the 3rd qtr. of school. The high school will be having a rewards day for all students with no D's or F's on their 1st-semester report cards. They will be taking a trip to see the movie Spiderman No Way Home on 1-19-22. Each student participating will need a signed parent permission slip and money for concessions if they choose. The admission fee will be taken care of.
Just a reminder that the Milan C-2 School District will host a Parent-Guardian Open Forum to discuss the potential of implementing a Four (4) Day week calendar for the 2022-2023 School Year on Thursday, January 20th, 2022 in the Milan C-2 Commons Area from 6 p.m. to 7 p.m. We invite everyone to come out and attend.
That's it for now. Have a Great January!!!
Mike Hostetter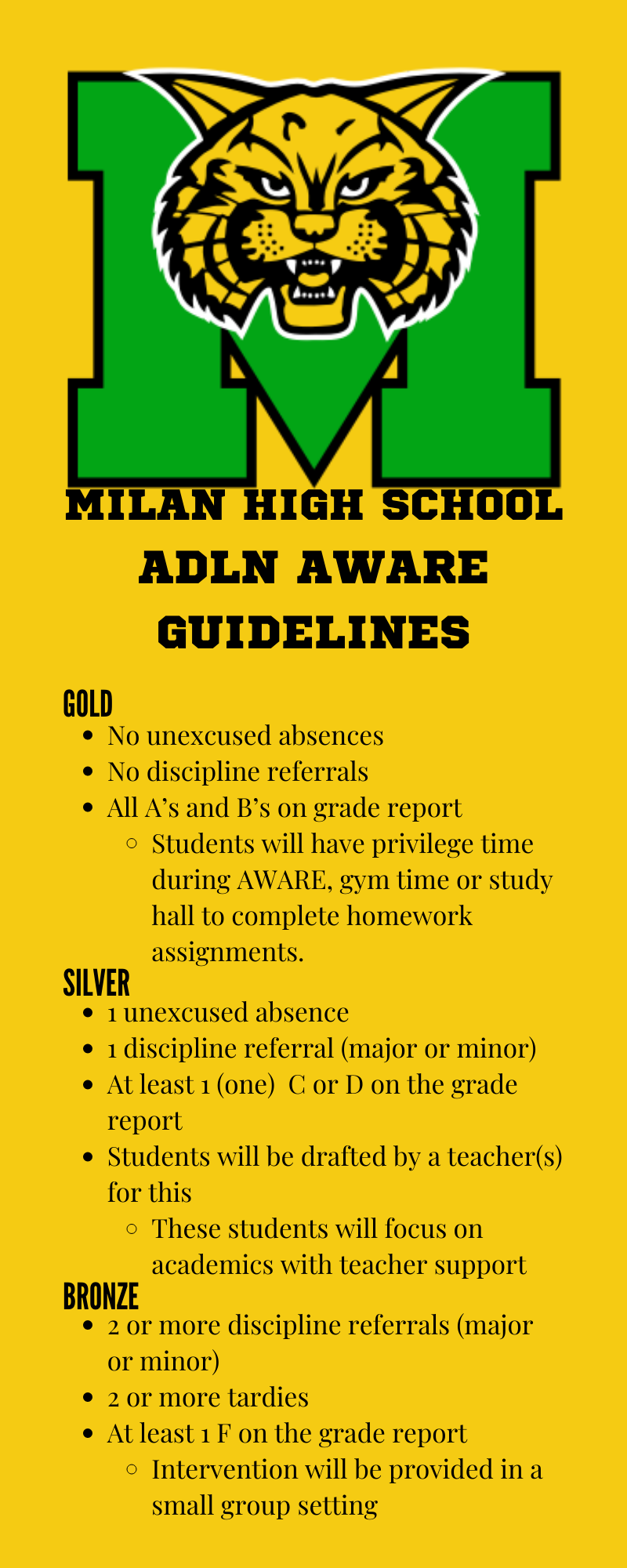 7-12 ADLN Aware Guidelines
7-12 AMI (Virtual) Day Schedule & Information
The Milan C-2 School District will once again be eligible to participate in AMI (Alternative Methods of Instruction) Weather Days for the 2021-2022 school year. While we all appreciate a good old-fashioned snow day, these days allow our district to limit, and possibly eliminate, the need to add extra days onto our school calendar due to weather and/or poor road conditions.
The school's approved AMI plan allows us to make up 36 calendar hours through virtual instruction, this equates to about 5 full school days. Therefore, there will not be unlimited amounts of AMI Weather Days.
It is important that your student participates in the virtual meetings and online assignments on the days that are utilized as AMI. Students that do not complete assignments or show up for class video calls will be marked as absent for that day and required to make up the work.
All classes 7-12 have scheduled times designated for Google Meetings. This schedule is designed with multi-student families in mind. We know that having multiple devices on home internet networks can put strain on the quality of the internet service. Additionally, students without access to the internet at home can checkout a Verizon Hotspot for AMI days. If your child will need access to a hotspot, please contact your child's teacher to let them know.
Our students and staff did an excellent job with AMI Days in the 2020-2021 school year and I'm looking forward to seeing all of the great work that will take place this year! If you have any questions or concerns, please communicate those with your student's teacher(s) and we will do our best to get them resolved as soon as possible.
-Brooke Dodson, Instructional Technology Director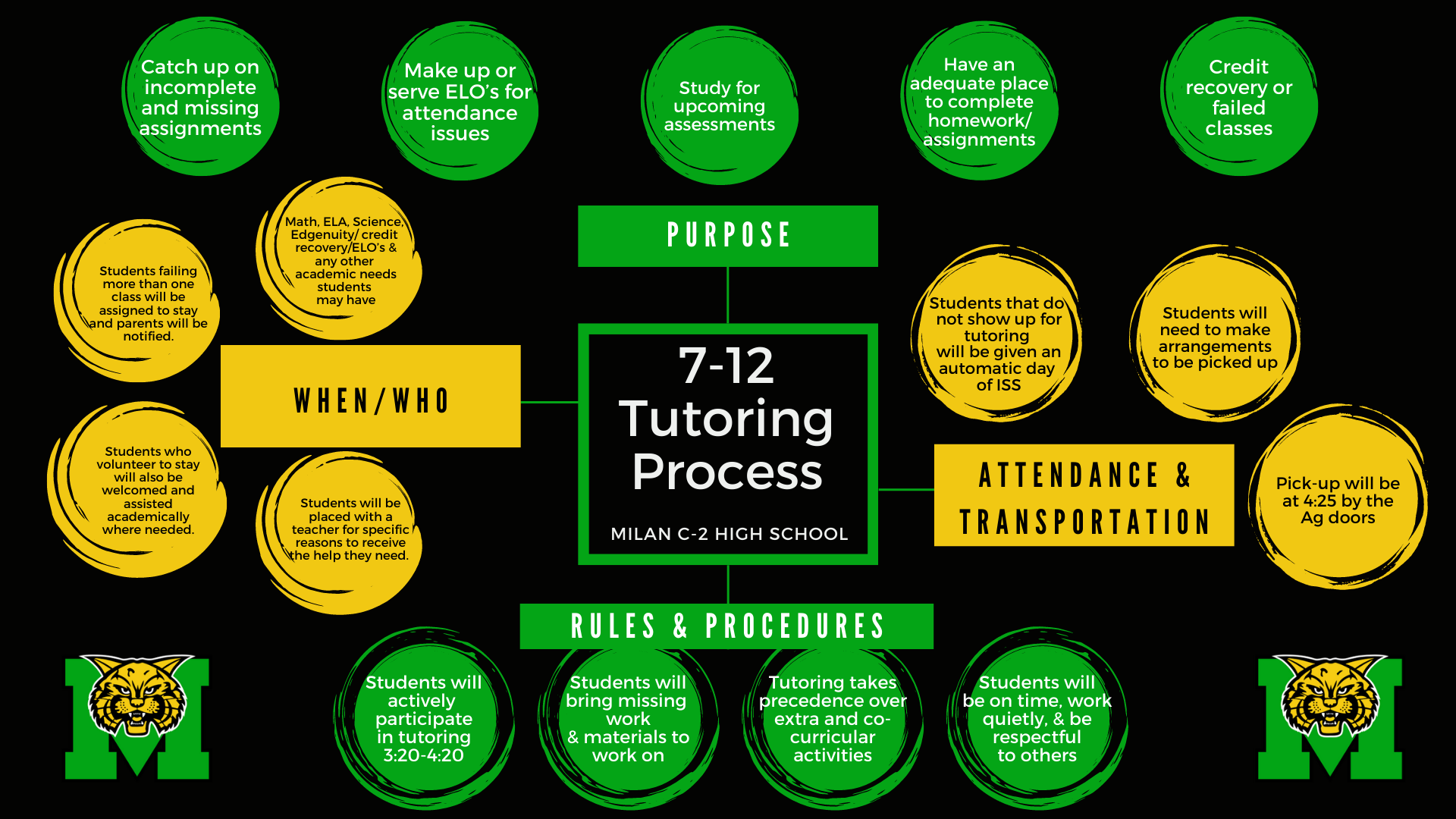 7-12 Tutoring Procedures